Home | About Us | Breeding | Studs | Puppies | Customer Feedback | Photo Gallery | More Information | Map to our location

OUR BROOD BITCHES
All of our Labrador Retriever breeder stock have OFA good or excellent hips and current CERF eye clearances.

Sires are field-titled dogs with top quality pedigrees. Our knowledge of the sire's pedigree ensures freedom from genetic defects. Many dogs are titled in conformation and field.

Our Dams are exceptionally well-bred dogs with impressive pedigrees. Some are in training for titles or titled themselves. They are sound in mind and body and even-tempered to impart those qualities in their puppies.


---
BAR A SHUR SHOT OAKLEY
(Click to see files)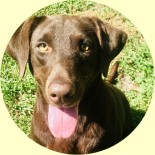 Oakley
(click for large picture)
Oakley is our four year chocolate lab. Weighing 55 pounds she is a beautifully built dog, and fast on her feet.
Oakley is one excellent companion, she never wants to leave my side and is eager to please any chance she gets. With one call of her name she is immediately healed by your side and ready for a command.
Oakley has a big heart and is excellent with kids. She comes from a excellent bloodline. She has excellent hips and normal elbows and is clear of EIC and CNM. Her puppies should make great companions and have the ability to perform at a high level in the field if desired.
See Oakley's complete files.

SHR FIREDAY BLUE MOON'S VENUS
(Click to see pedigree)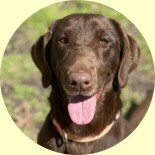 Venus
(click for large picture)
Venus is a perfect example of an Chocolate American Labrador. She is a beautifully built four year old with an impressive pedigree. As a senior hunter Venus is a smart girl and a fast learner with the passion to please and retrieve! Besides retrieving Venus is a incredible lover. She would be just as happy getting lots of belly rubs on the sofa as she is retrieving ducks. We believe her pups will make great pets, ready for the outdoors or the sofa.
See Venus files.
See more Venus pictures:
Venus picture 2
Venus picture 3



ROSE
(Click to see files)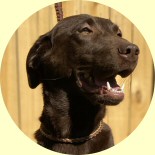 Rose
(click for large picture)
Rose is our two year old chocolate female. Weighing around 43lbs. With a small frame she is the ideal size for cuddling on the sofa, car rides, even hunting in the blind. She is fast on her feet and loves to swim. Rose has almost a mirror image attitude to her Mother Jelene, Kind hearted and spoiled rotten. She definitely gets her love of retrieving and swimming from her father Ace. Just as all the rest of our crew she is wonderful with our children and doesn't mind my 2 year old son snuggling up with her in her bed. Rose is CNM and EIC clear.
See Rose's complete files.


LOW TIDE'S RYE ON THE ROCKS, JH
(Click to see Rylee's files)



Rylee
(click for large picture)

Ryelee is our four year old black lab. She is a smaller lab who is light and quick on her feet. She loves being around people and is so manageable even a child can handle her.

Ryelee has earned her Junior Hunter title and is currently working towards her Senior Hunter title. She is incredibly talented and smart. She comes from a phenomenal pedigree of nationally known dogs. So besides looking good, her pups should be extremely smart.

See Ryelee's complete files. Her pups should make great companions and also be able to compete at a high level in the field.

BONEDADDY TROUBLESOME AVA
(Click to see Ava's files)



AVA
(click for large picture)


Ava is our three year old yellow female. Weighing 52 lbs, Ava is not just beautiful and athletic, she always has a smile on her face. This young lady is fast on her feet and always up for anything with an attitude to please! Ava has Good hips and Normal Elbows. She also is CNM and EIC clear.
See Ava's files in pdf.

PCR QUEEN OF COUNTRY
(Click to see Reba's files)



Reba
(click for large picture)

Reba is a 52 Pound Chocolate female. She is another of the well bred dogs that we own. Her breeding and genetics would rival several of our females in the number of titles (brains) in her ancestry along with the number of good/excellent hip certifications of those dogs.

With all this tremendous breeding behind her, she is still one of the friendliest dogs we own. Reba is very intelligent, easy to train and loves being around people. Her Eyes OFA Normal, she is DNA tested Clear for the EIC and CNM.. Her pups should make great companions and also be able to compete at high levels in competition if you desire to go that way.


See our puppies

See our trained hunting dogs

See our studs
Twin Oak Retrievers
Danny and Rachel Truitt
2209 Barclay Rd
Barclay, MD 21607
TwinOakRetrievers1@aol.com
Cell: 1-443-480-1429 / Home: 1-410-758-7671

Home | About Us | Letters | Breeding | Studs | Puppies | Photo Gallery | More Information | Map to our location